When I was still a wet nosed reporter (which was only in 2003 mind you), I would have told you that you were insane if you were claiming that traditional media would die out before I did. Then again, this was before iPods had video and WiFi capabilities, before Facebook and Twitter and before Google News.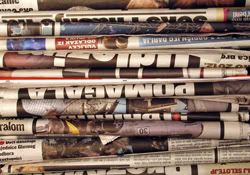 Fast forward a few years and it's a whole new ballgame. Newspapers are cutting staffs, magazines are calling it a day and headlines are being broken by Twitter users and bloggers far faster than the traditional media and it's so-called 24-hour newscycle. The rise of the blogosphere, social networking and changing consumer attitudes have turned content production on its head. And if newspapers and magazines don't make adjustments, pool their resources and begin listening as much as their shouting, the death rattle will be coming sooner than later.
Content sharing isn't a new idea by any means. I grew up in Detroit, and remember when the Detroit News and the Detroit Free Press published a single joint weekend edition between 1998 and May of 2006. Prior to that, the News and Freep entered into a Joint Operating Agreement on the business operations side of the shops to cut cost as part of the Newspaper Preservation Act of 1970. They are one of the few sets of papers in joint operating agreements that ever shared content.
But the current economic atmosphere, rising newsprint costs and increases in online readership are forcing papers to look at these sharing partnerships yet again.
Last December, The Washington Post and The Baltimore Sun announced that they would enter a content-sharing arrangement, and just two weeks ago, The Dallas Morning News and Fort Worth Star-Telegram announced plans share sports coverage.
I don't think it's a stretch to say we'll continue to see this trend in newspaper publishing. The question we need to start answering is, when will this begin occurring in the magazine, tabloid or even digital industries?
I think the overwhelming answer is probably sooner than later.
As this PR Week media analysis points out, magazines like AdWeek, BrandWeek and MediaWeek (all Nielsen Media titles), began sharing content in October of 2008. The company points out in the news release that less than 2% of subscribers for the publications, which cover overlapping industries, receive all three titles.
Still, the unfortunate reality is that magazines need to begin examining sharing content with rival publishers, as some of the aforementioned newspapers have done. But there is a particular challenge in that experiment because newspaper content sharing (usually) has the advantage of regional play, or, as we see in the Star-Telegram/Morning News arrangement, the advantage of only sharing sections. Magazines are much more topic-focused, making cannibalizing of issues a given. And where do you make the call on which writers to keep, what sort of voice to carry forward?
Unfortunately, as the PR Week article points out, it's a "murky" proposition, but one that I believe will be absolutely necessary for the survival of even the most storied titles in the annuls of media history. What are your thoughts on this topic? Do you ever see major media magazines or blogs sharing their content? Could Newsweek and Time one day share stories? I'm curious as to your thoughts.
Photo by : Sanja Gjenero